Talking about box column drilling machines first of all we can notice that they are used for drilling, reaming and dredging. But those machines can do another operation such as milling, taping or boring. Drilling machines, especially box column drilling machines are used mainly is small-scale production but some modifications of those machines also uses in mass production. We have two box column drilling machines that were produced by different companies and have different technical parameters. We will have to compare these machines. Our first drilling machine is Stankoimport 2H135 (Figure 1 and 2).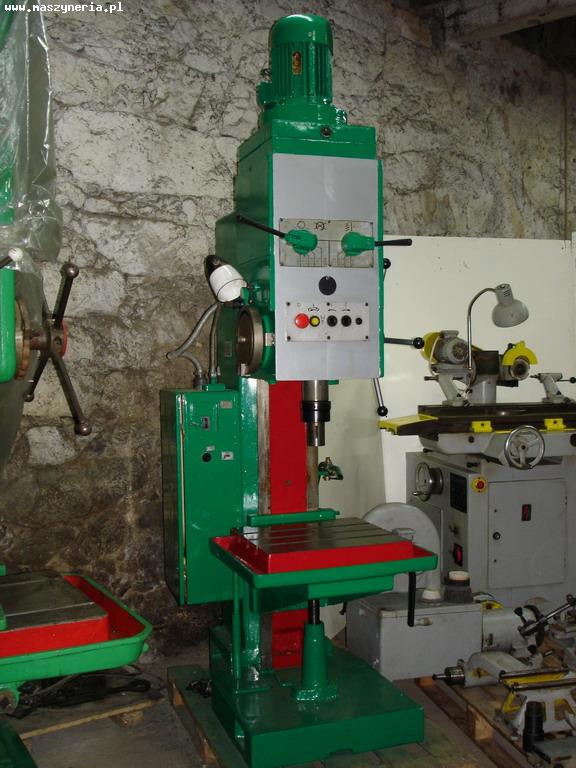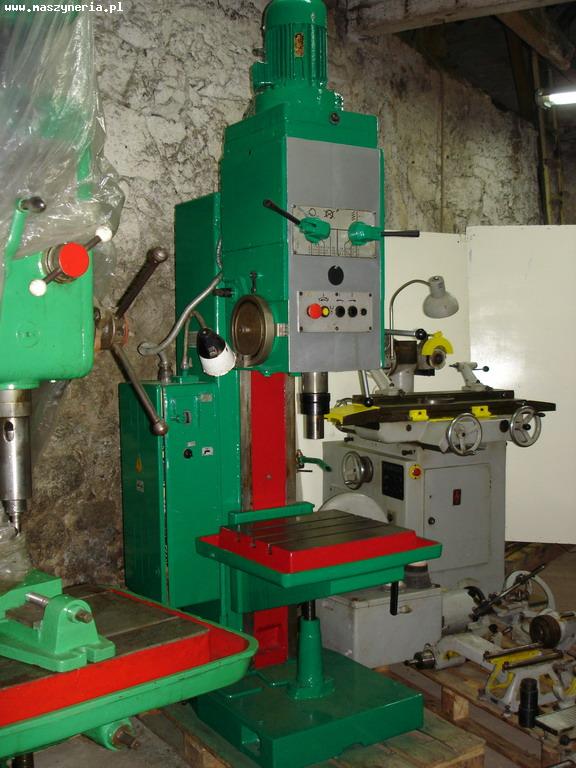 Stankoimport is the well known USSR company that produce not only drilling but also another machines for metal processing. This model is old one but not much, it was produced in 1982 but it is in good condition. Stankoimport 2H135 has mechanical spindle feed with manual control of processing cycle that enables processing materials with a wide range of dimensions, using metal`s tools with the high content of carbon, high speed steel and carbide. Drilling machine is equipped with the device that change the direction of rotation of the main drive motor, which allows threading by mechanical taps with manual feed of the spindle. As for main technical parameters of this machine, maximum drilling diameter in steel is 1.4 inch, working table has 19.7 inch in length and 17.7 inch in width. Spindle has 12 ranges of speed and rotaries from 31,5 rpm to 1400 rpm. Maximum distance from the spindle to the table is 29.5 inch and maximum distance from the spindle to the base is 44.1 inch. As for measurements, the height of machine is 104.7 inch and the weight is 1.3 short tons. Stankoimport 2H135 is equipped with central lubrication, lighting and technical documentations. Our second box column drilling machine is Infratirea – Oradea G 40 (Figure 3 and 4).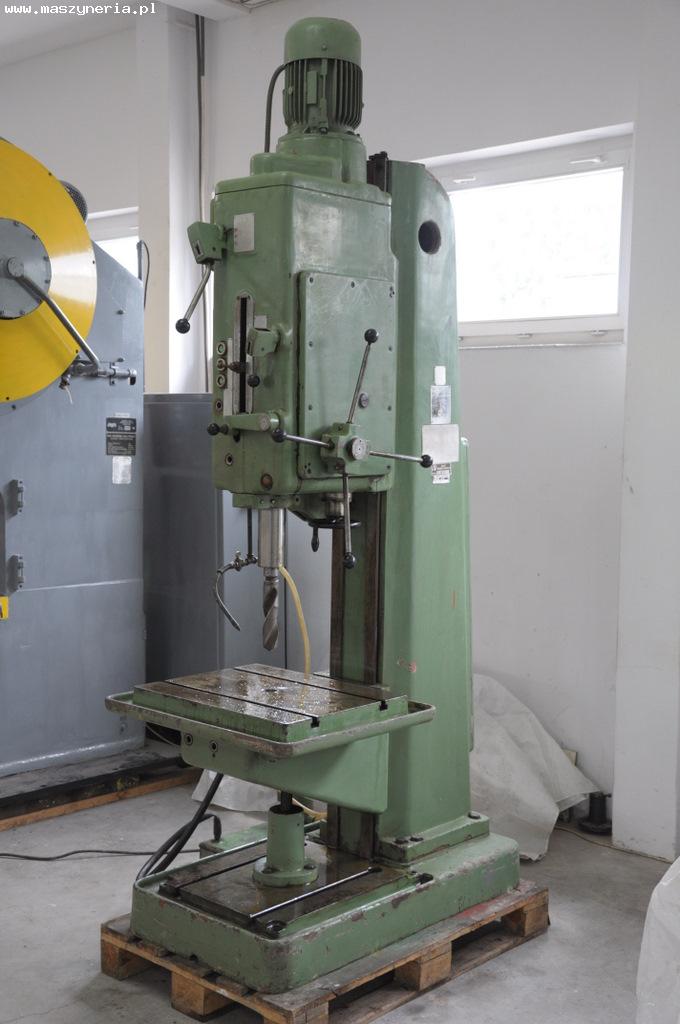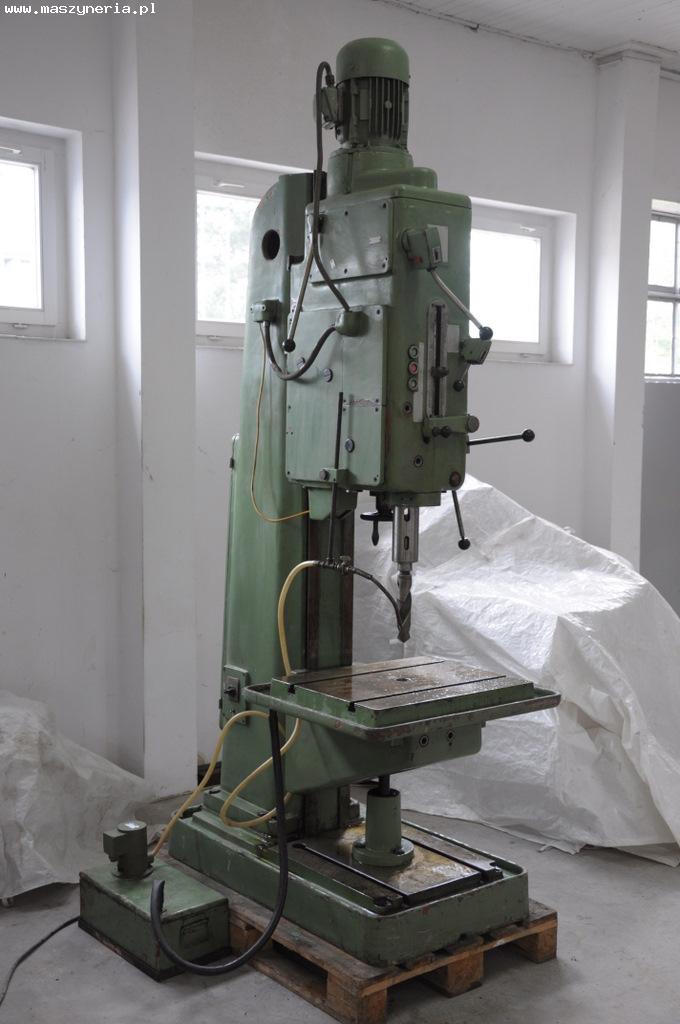 Infratirea – Oradea is a Romanian producer of machines and it is not so popular as Stankoimport but their machines has also quite good quality. G 40 was produced in 1990. It can do following things: drilling, reaming, dredging, milling, boring and tapping. The machine is equipped with a mechanical feed rates and spindle quill. Next I tell you about technical parameters. First one is maximum drilling diameter that is 1.6 inch in steel and 2.2 inch in light metals. The next is table size with length 14.8 inch and width 19.7 inch. This drilling machine has 9 feed rates of spindle from 0.004331 in/s to 0.068898 in/s and 12 rotary speeds of spindle from 31.5 rpm to 1400 rpm. I also want to mention such parameters as maximum distance from the spindle to the table and maximum distance from the spindle to the base that are equal 28.7 inch and 46.5 inch respectively. Concerning to the measurements, they are the following: length – 63.1 inch, width – 30.3 inch and height – 117.5 inch. The weight of machine is 1.7 short tones. Infratirea – Oradea G 40 as well as Stankoimport 2H135 is equipment with central lubrication, lighting and technical documentations.
Summarizing all the information I want to say that both machines are good in their work. On the one hand Stankoimort is better known company that produces really good machines but on the other hand Infratirea – Oradea is make a quite good machines too but their model G 40, which we are talking about, has the better technical parameter like speed of the spindle and is newer than machine with model 2H135 produced by Stankoimport.